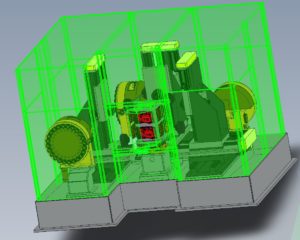 Are you in the market for a versatile machining solution? Key Products can design and construct Flex Centers to allow for the productivity of multiple tools in the cut simultaneously – such as a dial machine or a transfer process.
This solution is unique in that it's highly adaptable, in regards to change over, and offers a number of advantages:
Uses the same tombstone fixture concept as a standard horizontal machining center, so as your volumes go up, you can simply put the parts on our flexible production machine and get three (3) tools in the cut
Each station is equipped with an automatic tool-changer for 20 tools
Option for multi-spindle head drilling or tapping multiple holes
For families of parts, simply call up the program and run a new design
The machine can be built with different travels and configurations
The show machine has 24 inches of travel, 3100 rpm at the spindle, and ISO 50 taper
Each station can move to assist the machine on the side of the part at the adjacent station
Handles two (2) or three (3) machining stations depending on the part requirements
Flex Center Options for Each Station:
HSK tooling
1000 psi thru coolant
Up to 42000 RPM spindle
Request More Information
Would you like to learn more on how our versatile flex centers can unlock your production potential? Contact Key Products today.